Childcare Centers
The Learning Center at Concord Hospital
Concord, NH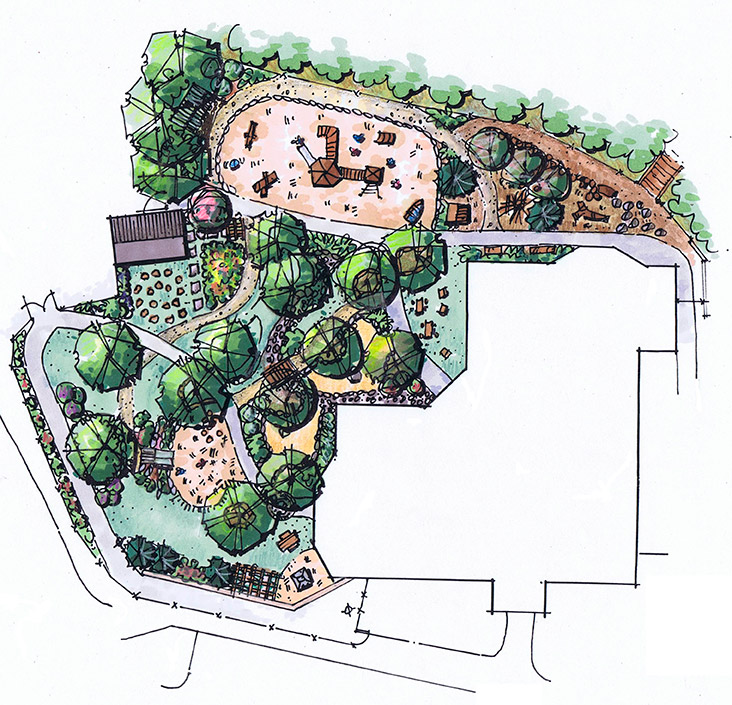 Over the years, the staff and administration of the Learning Center at Concord Hospital tried to make improvements to their play space. Never fully realizing the potential of the site, they sought out the expertise of landscape architect, Susanne Smith Meyer. Susanne was able to help them crystallize their vision into a design that could be implemented over time as financial resources became available.

The final plan provides the center with an outdoor space that incorporates learning and play opportunities that encourage and cultivate creativity, imagination, and the interaction with nature. A boardwalk will provide access through adjacent wetlands where children can observe and explore the habitat, as well as walk safely to an Alzheimer's care facility, Granite Ledges, where the children make regular visits to the residents.

The staff chose to construct the vegetable garden first—due to its location, ease of construction, and minimal cost. It was also a project that could easily generate enthusiasm among parents, staff and the hospital community and demonstrate the administration's commitment to improve the site. The garden was ready for the 2012 growing season and Phase I, construction of the sand play area and dry stream bed, was completed in November 2013.
Plans are underway to begin Phase II in 2014.
| | | |
| --- | --- | --- |
| | | |
| | | |
Bessie Rowell Community Center
Franklin, NH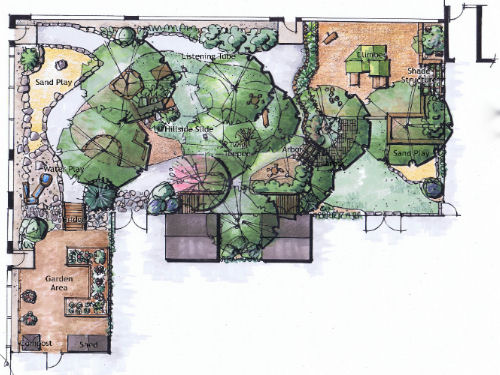 The former Bessie Rowell Elementary School in Franklin, NH, is being repurposed as a community center. As part of this transformation the Head Start program in Franklin received a federal grant to relocate to the new center. The city's recreation department, senior center and Tiny Twisters—a private daycare center—have also relocated to the center. Funds were set aside for a much needed play yard. Naturally Rooted LLC was hired and designed a new play yard for both childcare centers.

Conveniently located with direct access to the building, the area designated for the play yard was cut out from an existing asphalt court. The transformation took about a year to complete, but now more than 60 plus children have a play yard that is "a green oasis surrounded by an asphalt jungle." The children now enjoy the shade from newly planted trees, a grassy hill with a slide, a sand play area surrounded by boulders, a riding path and raised beds for gardening.