K-12 Schools

Three Rivers School
Pembroke, NH
Three Rivers School is a middle school in Pembroke, New Hampshire. It has an enrollment of approximately 350 students in grades 5 through 8. When Jon Marston became principal in 2013, he inherited a schoolyard that was barren and woefully inadequate, not meeting the needs of the students or community at large. He would like to change this and has taken on the challenge of improving the grounds to better address the health and wellbeing of the students as well as encourage more for hands on learning opportunities outside.
Naturally Rooted LLC designed a plan for the schoolyard that addressed all these needs and more. Elements include a school garden, outdoor classroom, fitness trail and a sitting enclosed with a landscape mound and an area for traditional play equipment. The school is actively raising funds to make the improvements so that this vision can become a reality!

Canaan Elementary School
Canaan, NH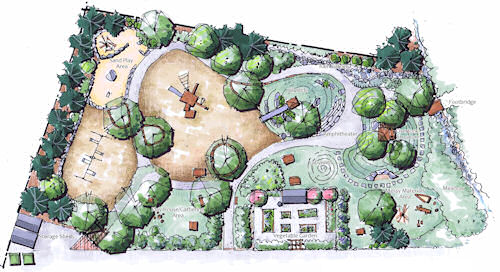 Canaan Elementary School is one of two elementary schools in the Mascoma Valley Regional School District. It serves approximately 300 children from preschool to fourth grade from four neighboring communities. The current site has roughly five acres of woods, playing fields, and a fenced in play area with limited play opportunities and outdated play structures.

A grant from the Upper Valley Healthy Eating Active Living (HEAL) provided the funds to have a Master Plan prepared for the entire schoolyard that would provide opportunities for play, learning and community while promoting healthy eating and active living. Prior to beginning the design, the Naturally Rooted team collaborated with staff, parents, students, and community members at a visioning workshop.

Goals and objectives, along with a mission statement were identified during the course of the workshop and ultimately incorporated into the final "ecological schoolyard" design.

The final result is a design that meets the needs of the school and transforms the school yard into a vibrant ecosystem that is fun, educational and reconnects children with natural systems in their community. Features in this design include a New Hampshire woodland habitat, walking trails, outdoor classroom pavilion, garden area, sand play area, meadow and a bioswale and rain garden for onsite storm water management. The Naturally Rooted team worked closely with the school community to create a schoolyard design that meets their long-term vision and goals for the current and future needs of their school community.
Beaver Meadow Elementary School
Concord, NH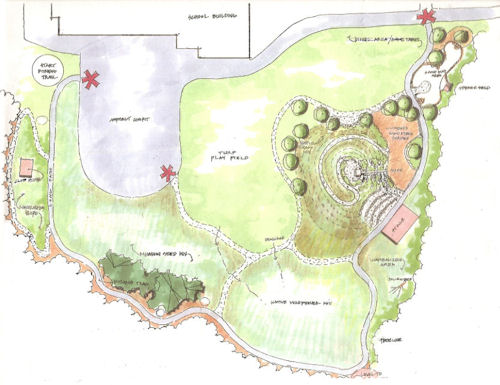 Beaver Meadow Elementary School is the largest elementary school in Concord, NH, and one of the district's four accessible elementary schools. Its aging playground was one of the least accessible in the city. A committee of parents and school staff decided it was time "to create a playground that is a national model for accessibility, love of nature, physical fitness and social interactions. Children of all abilities will be able to go to every area and participate and be successful." Landscape architect Susanne Smith Meyer worked with the committee to turn their vision into a reality.

To attain this vision the traditional playground—twisty slide, fireman's pole, zip glider—came down and was replaced by a barrier-free play ground, based on a nature based model, inviting children of all physical abilities to explore and play. The playground, which is open to the public during non-school hours, began taking shape in 2008 with the creation of a hill with a gradual path that leads to a slide built into the slope. Large boulders are placed adjacent to the slide in the hill, creating a natural amphitheater inviting teachers to hold outdoor classes and performances.

The sand play area, constructed as an Eagle Scout project, is enclosed with cedar posts and is adjacent to a handicap accessible sand table. Children and neighbors enjoy walking along the quarter mile stone dust path, which winds around the perimeter of the schoolyard, connecting fitness equipment, benches, and tree groves. The school continues to add components to the playground as funds become available.